Eyewear Trends for 2017 : Sunglasses
Wish you a fabulous New Year 2017. If you are planning to bring about a sea change in your look, then enough of playing by the rules! Let 2017 be a liberating year for your style! For once, open your closet and take a long careful look at your belongings and donate all the stuff that makes you look as if you belong to the last century. Restock your closet with all the clothes and accessories that scream '2017 Style Icon.'
Your eyewear should also be updated for 2017. This is why Perfect Glasses brings you the best sunglasses trends in 2017. While most of you may be thinking, sunglasses do nothing to change your style. Think again! Whether you wear prescription sunglasses or fashion sunglasses, they are one accessory that can revamp your entire look. Hence, when you buy your sunglasses, remember that they have to keep up with the ever changing trends in eyewear. We highly recommend you to go through the list of top picks in sunglasses in 2017 which will become the crème de la crème of your sunglasses' collection.
Oversized Sunglasses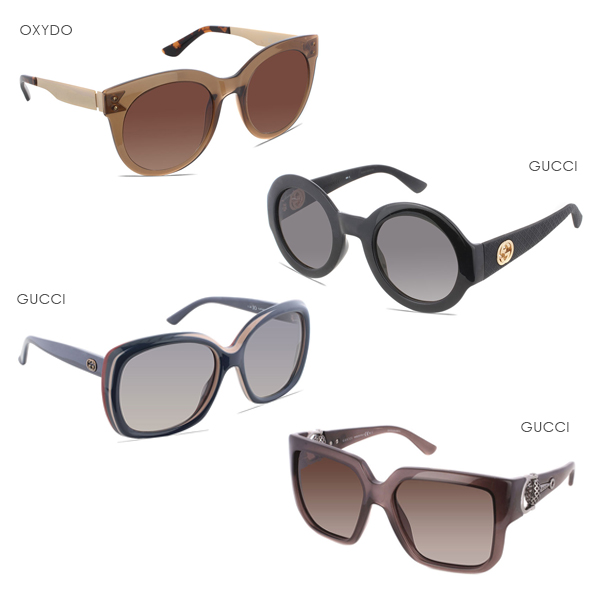 Somethings are always the bigger, the better!

One of the coolest accessories that will probably never go out of style is the oversized sunglasses. Get the 'IT' look with these beautiful oversized sunglasses at Perfect Glasses. Thoughtfully handpicked from over 70 brands, Perfect Glasses brings you the best sunglasses trends in 2017. Oversized glasses have the power to make or break your look. They instantly transform a staid look into a hot sizzling one. Want to upgrade your look from boring to exciting in 2017, then do have a look at some of our choicest picks of branded oversized sunglasses from brands like Gucci, Jimmy Choo, Dior, Guess, Fendi, etc.
Fashion Forward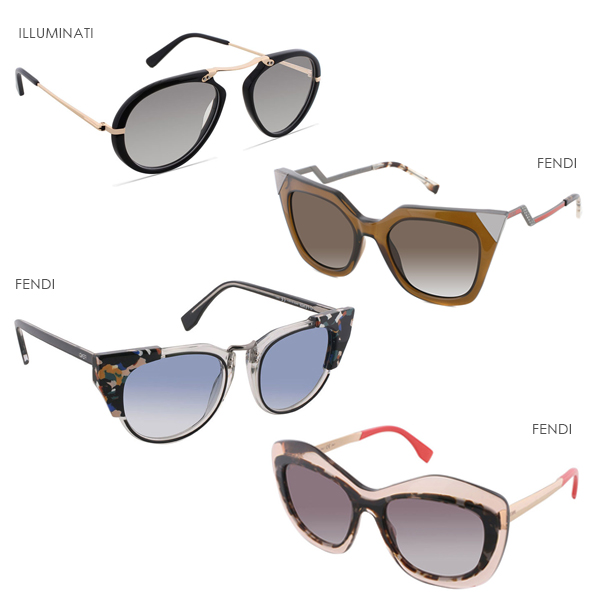 Who wants to blend in, when you can stand out! If you love quirky high-end sunglasses just like me, then you are going to love these absolutely stunning and fun pairs which will suit the most discriminating tastes ever. Command attention wherever you go with these unusual futuristic eyewear styles that will definitely add an edge to your personality. Look every bit the high fashion eyewear fanatic that you are by donning these gorgeous 'straight off the runway' designer sunglasses from Perfect Glasses. What's the best news? These fashion forward sunglasses are on a Flat 50% off at Perfect Glasses. So grab your favourite pair today and get ready strut your confidence in these futuristic sunglasses.
The Double Wire Rimmed Sunglasses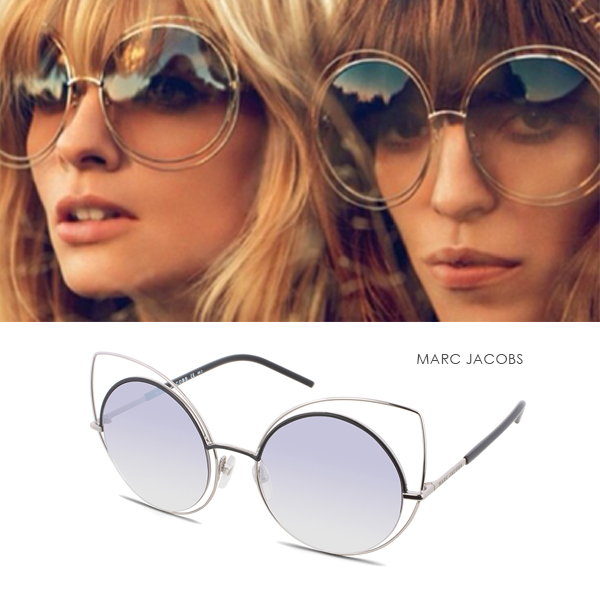 Double wire rimmed sunglasses are trending in 2017. Formerly a retro style, they have been re-imagined and the results as we see are absolutely fantastic. Choose from double-wired round, square, rectangle or cat eye frames. The double wire rimmed sunglasses will help to accentuate your features and give you a latest and updated look! So go pick up a stylish pair of double wire rimmed sunglasses, you know you want to!

Embellished Sunglasses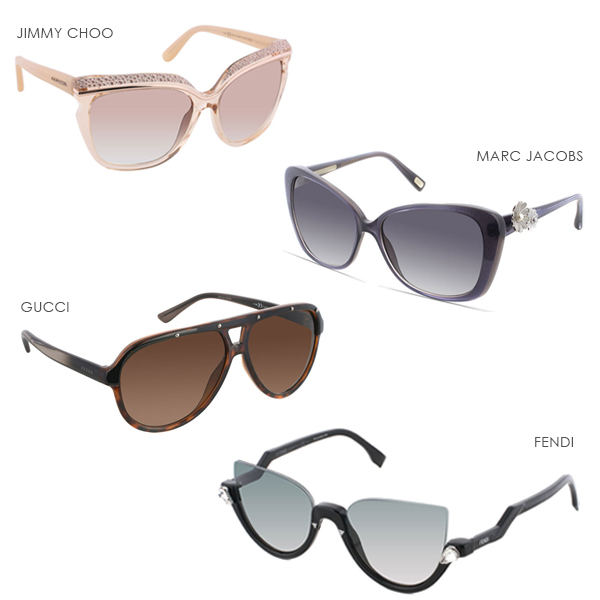 2017 is the year to 'bling it on'! Super cute floral and stud accents on sunglasses have been carried forward from 2016 and the bling just got all the more funkier this year! Say yes to glitter and crystals on the temples of your quirky sunglasses. These show stealers are definitely going put you ahead of the fashion curve. Accessorize with these bejewelled sunglasses. They are perfect to perk you up on a gloomy day. Don't be afraid to dress up a mundane look with these beauties and go glamorous with these glittering wonders.
Browline Sunglasses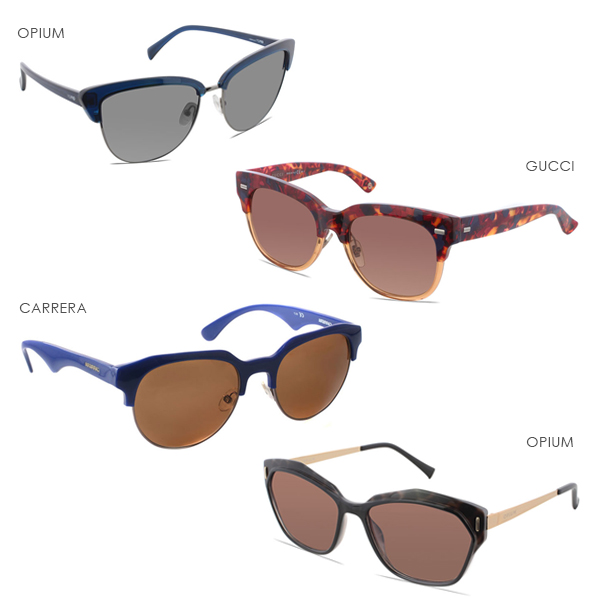 Straight from 1950s & 1960s, browline sunglasses have made a grand comeback this year. Just like browline eyeglasses, these sunglasses have a distinctive thick angular browline that extends beyond the top rim of the frame. Wave good bye to the classic brown, black and tortoiseshell colours. Wear these browline sunglasses in fun colours and atypical browline structures. Look smart & suave in this quirky designs. Browline sunglasses will help you to add a flash of retro inspiration to your look albeit with a modern twist!
Unusual Aviators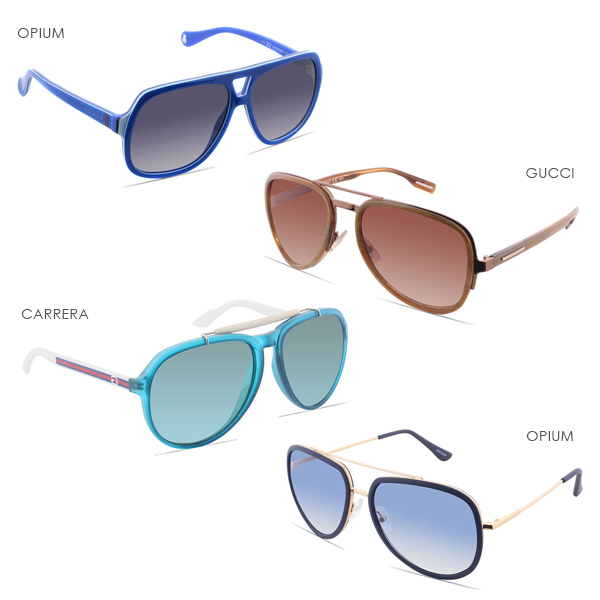 So you like to stick to your regular aviators & wayfarers? Get ready for some serious eyewear makeover! With 2017, bring in the new aviators! With a long brow bar and remarkable metallic craftsmanship, the new aviators are even more bolder & sexier! With a stunning range of colours and styles, these unusual aviators with exquisite metal detailing are a must-have for every fashion savvy person! Assert your smart style with these sophisticated 2017 unusual aviators.
Tinted Sunglasses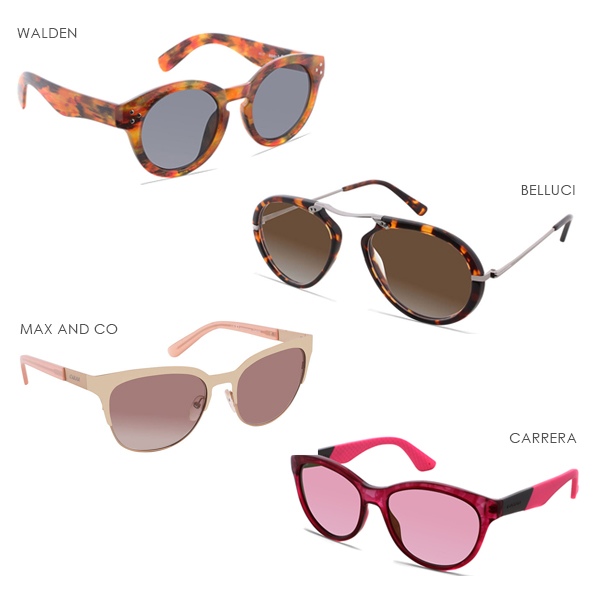 2017 is the year of tinted sunglasses. Tints play an important role in the look of your sunglasses. Grey & brown are boring, play with colours, try the yellow, green, lavender, pink shades to look upbeat and trend on. At Perfect Glasses, you can have sunglasses online in any coloured tints that you want. You can even get tints at Perfect Glasses in various gradients for a trending ombre effect. You can also opt for sunglasses with clear lenses as they are also popular this year.
Round Double Brow-Bar Sunglasses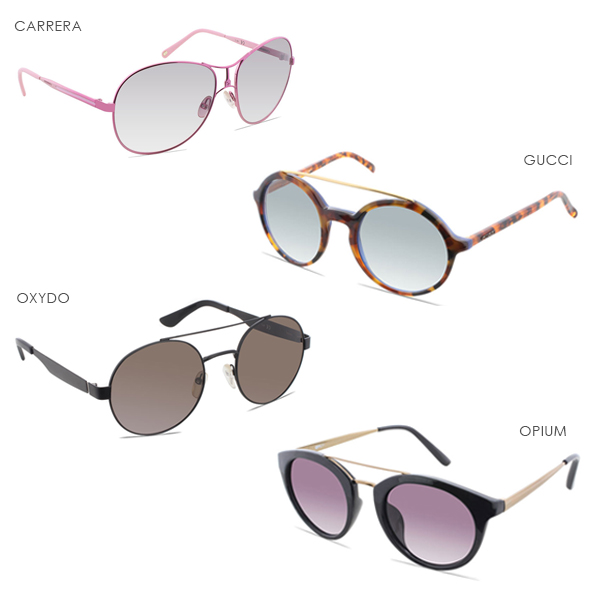 Round glasses have certainly been en vogue for a couple of years now and we have been seeing some stunning high fashion variations. A hot favourite among celebrities & socialites, round double brow-bar sunglasses are one such avatar of round sunglasses. Round brow-bar sunglasses is the new coolest kid on the block and it is certainly going to rule the runways in 2017. The design does look like it has drawn inspiration from a retro steampunk. The long brow bar and the round lenses sure create a stunning effect and give the wearer a modern and stylish look.
Round Double Brow-Bar Sunglasses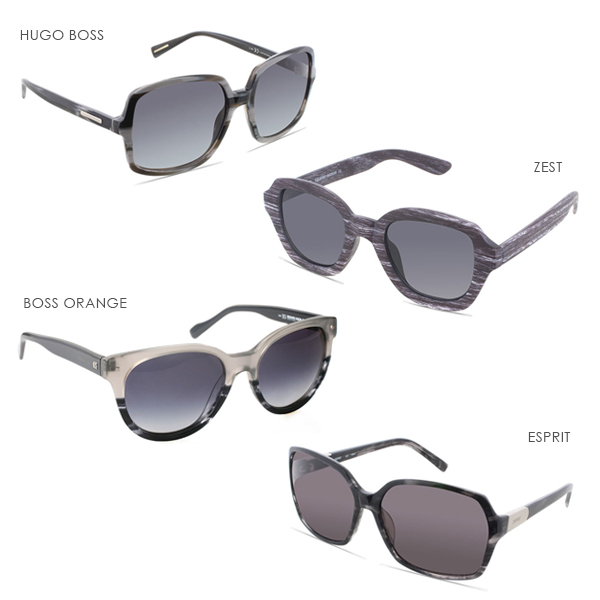 If you are in love with the marbled effect of your nail polish. Just imagine how beautiful will marbled acetates or sunglasses look! In 2017, marbled sunglasses are a big thing. Forget the same old boring blacks and browns. Marbled sunglasses at Perfect Glasses are just gorgeous and stunning! Perfect Glasses boasts of an amazing collection of flattering designs with hints of coloured swirls for a perfectly understated look. Wear these uber-stylish sunglasses with a marbled effect and get ready to be showered with compliments. Whether you prefer a partially marbled glasses or completely marbled sunglasses, you are sure to get a modish and confident look!
Now that you know about the eyewear trends in 2017, visit Perfect Glasses for a the best sunglasses & glasses online at lowest prices in the UK.